Maps & Direction
You can download some practical information here (dated: 30th June 2022):
Venue & Accomodation
Congress venue: The Mannheim Palace (Mannheimer Schloss)
The XX EURALEX International Congress will be hosted on the premises of the Mannheim Palace (Schloss Mannheim). The building was erected between 1720 and 1760. It originally served as the winter residence of the Prince-elector of the Electoral Palatinate. With its staggering facade of 440 meters, the Mannheim Palace is the largest baroque palace in Germany and the second largest of the world after Versailles.
This impressive look was chosen to illustrate the political power of the Prince-electors. Carl Theodor, reigning from 1742, fostered the arts and sciences and established the baroque palace as a muses' court. During World War II, the palace was almost completely destroyed. With immense effort and costs it was reconstructed from 1947 to 2007.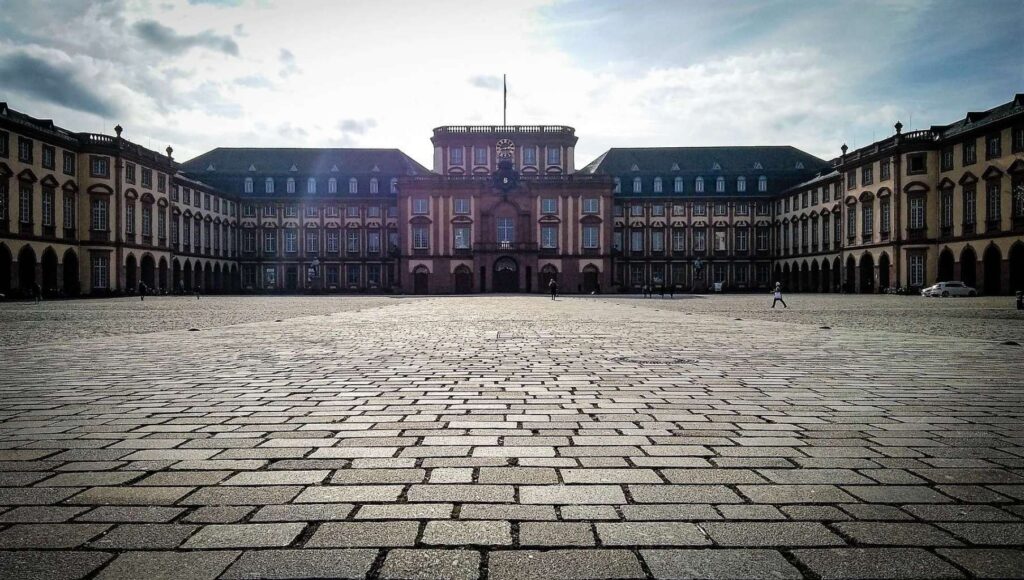 Today, Mannheim Palace is used as campus of the University of Mannheim and its 12.000 students and 1.400 staff members. The university is particularly renowned for its social and economic science departments, but the Humanities are also highly ranked among German universities.
Getting to the venue (University of Mannheim / Schloss) is easy as the venue is situated in the city's centre and can be reached either by foot or by public transport. The walk from Mannheim's central station takes around ten minutes. Several different tram/streetcar lines can be taken to get to the stops Schloss or Universität.
Getting around Mannheim by public transport RNV: https://www.rnv-online.de/english/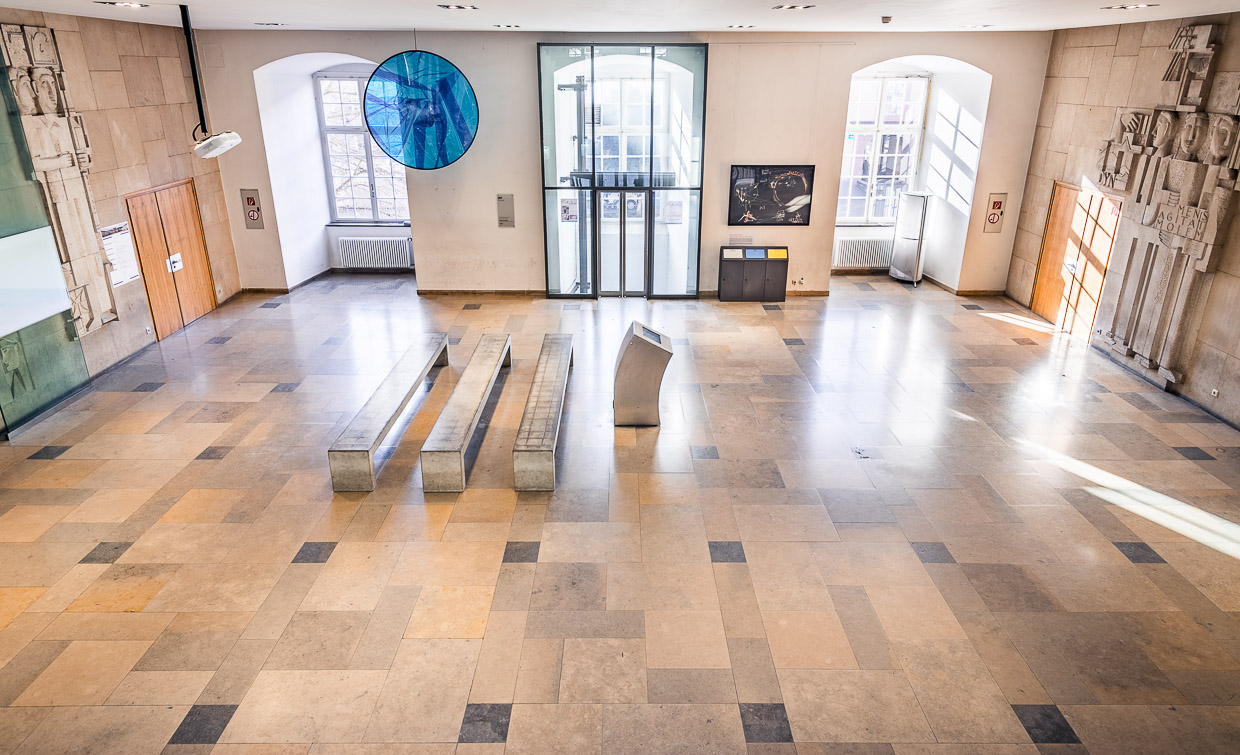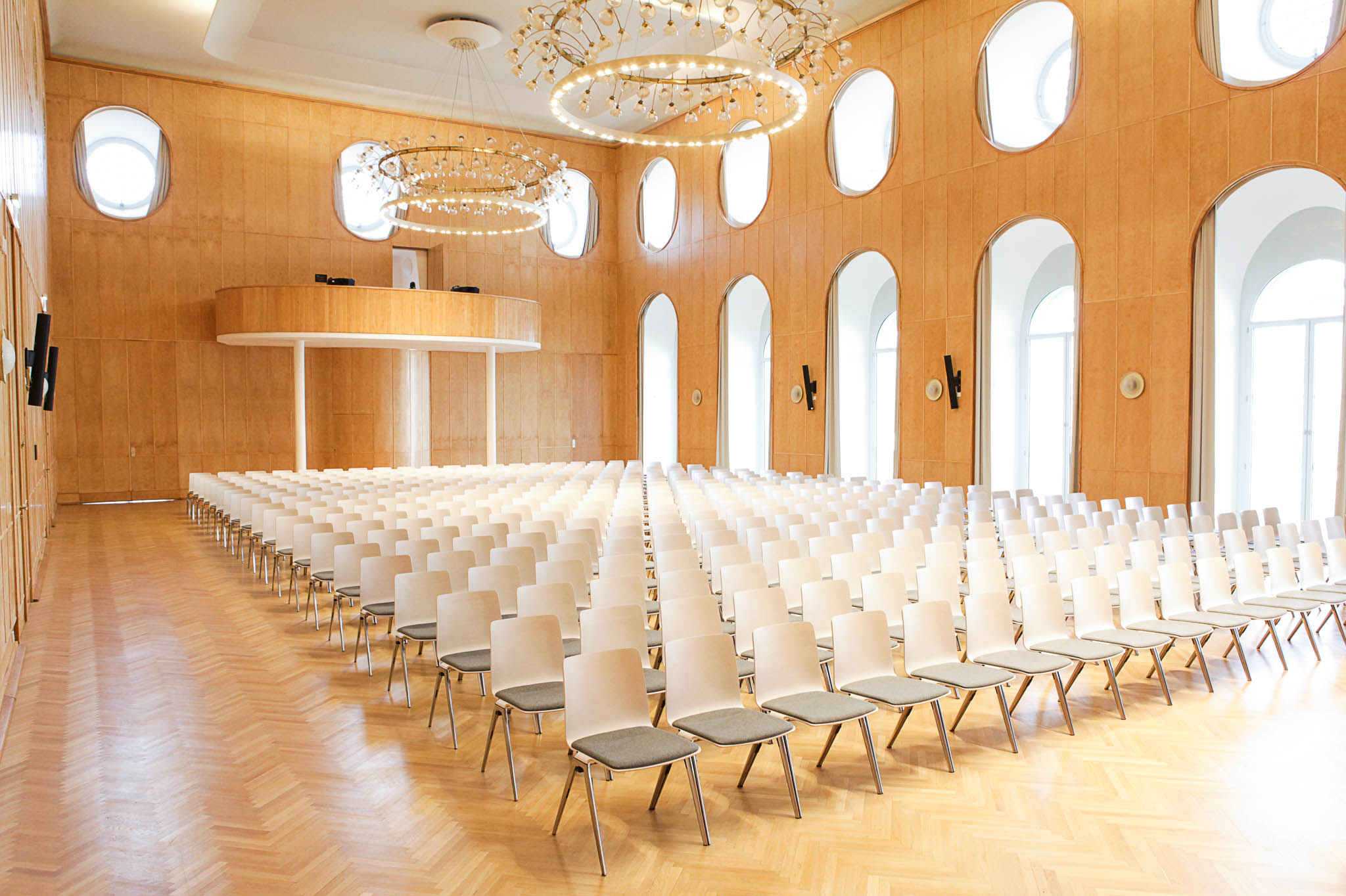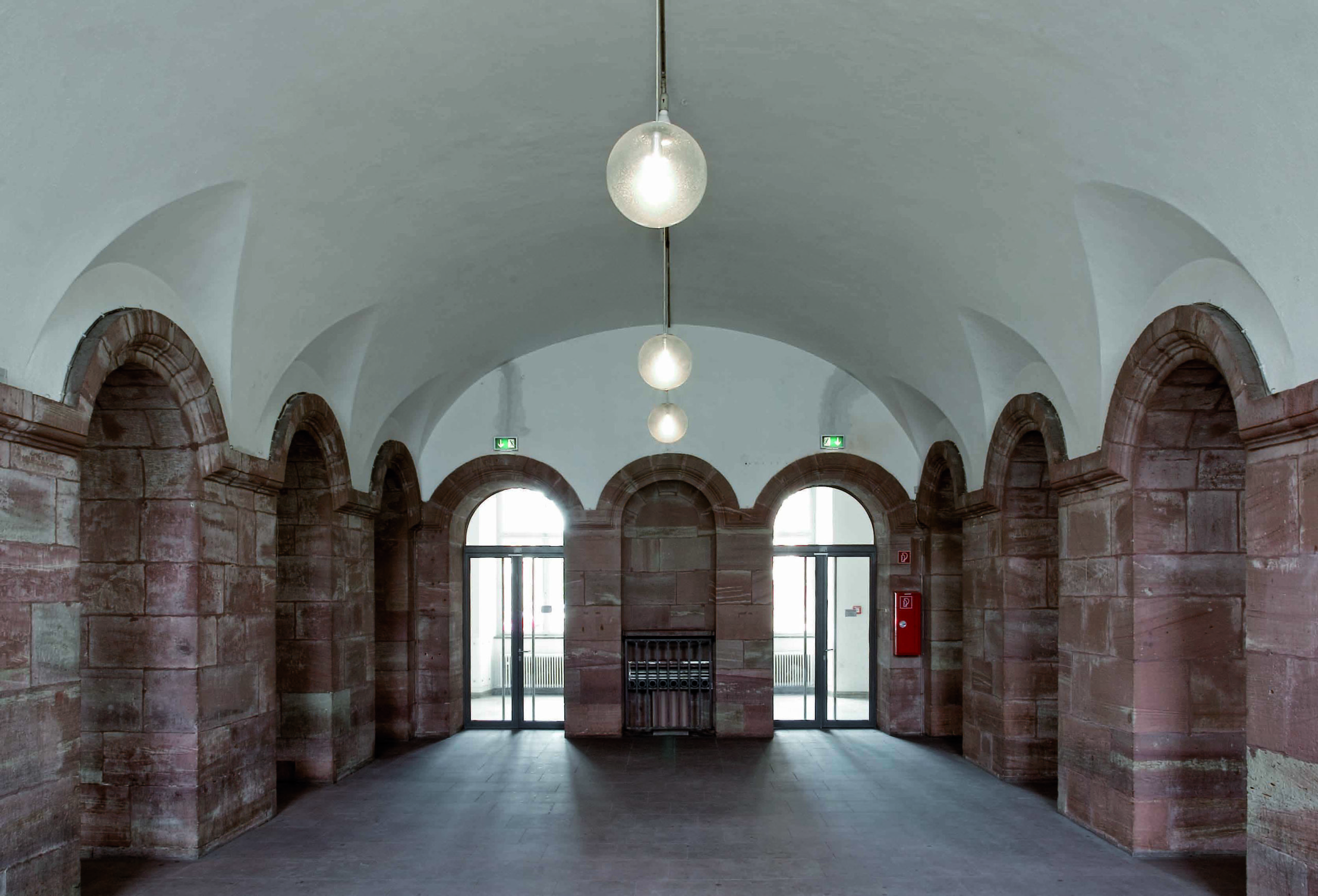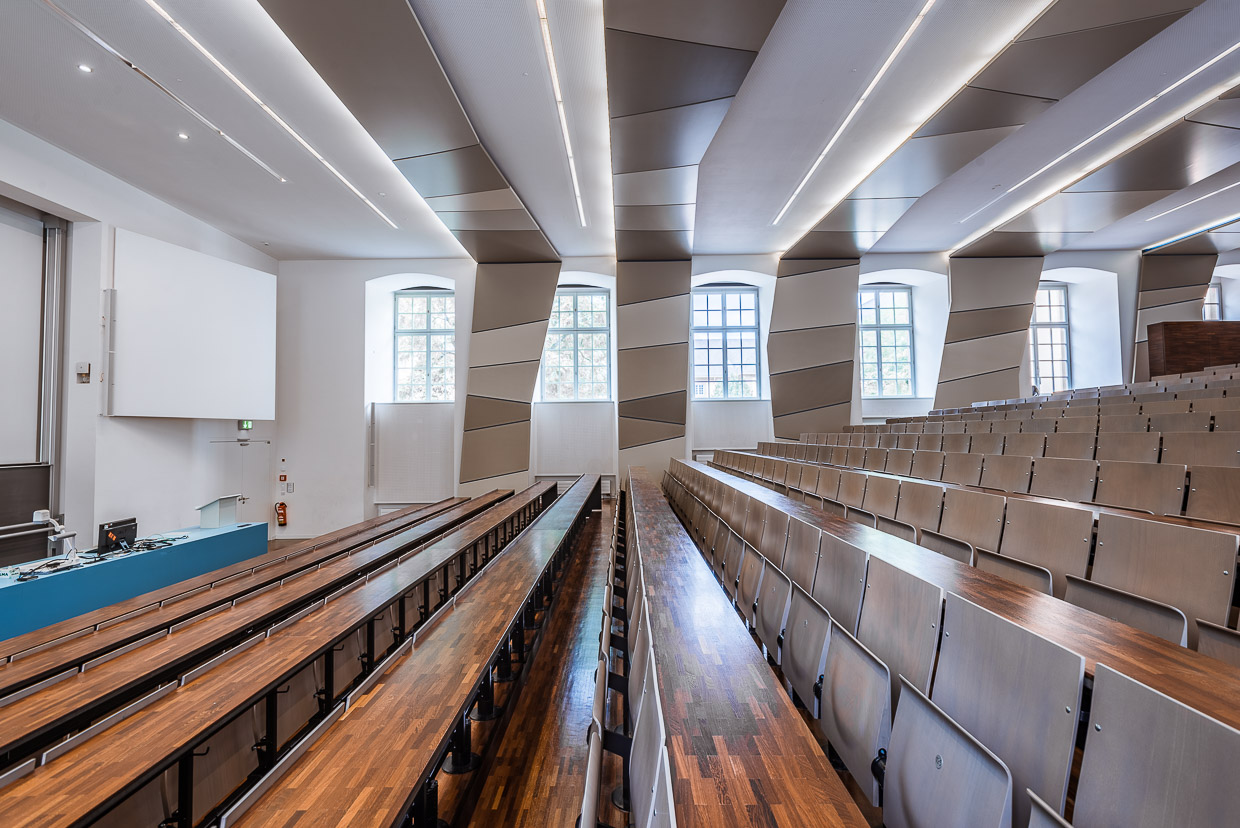 The City of Mannheim
Mannheim is modern, baroque, urban and has a surprising amount of green. The first thing to notice about Mannheim is the checkerboard-like downtown. This not only echoes New York but is also responsible for the nickname "City of Squares". The layout dates back to the fortification and civic building work that took place under Elector Friedrich IV. The grid-like road network is formed by similarly sized blocks of buildings – the squares. 144 Mannheim squares create a clear structure in which it is easy to find one's way around.
The "city of squares" is cos­mo­politan, diverse, multicul­tural and always authentic – that's the best way to describe the people who live here and the culture of Mannheim itself.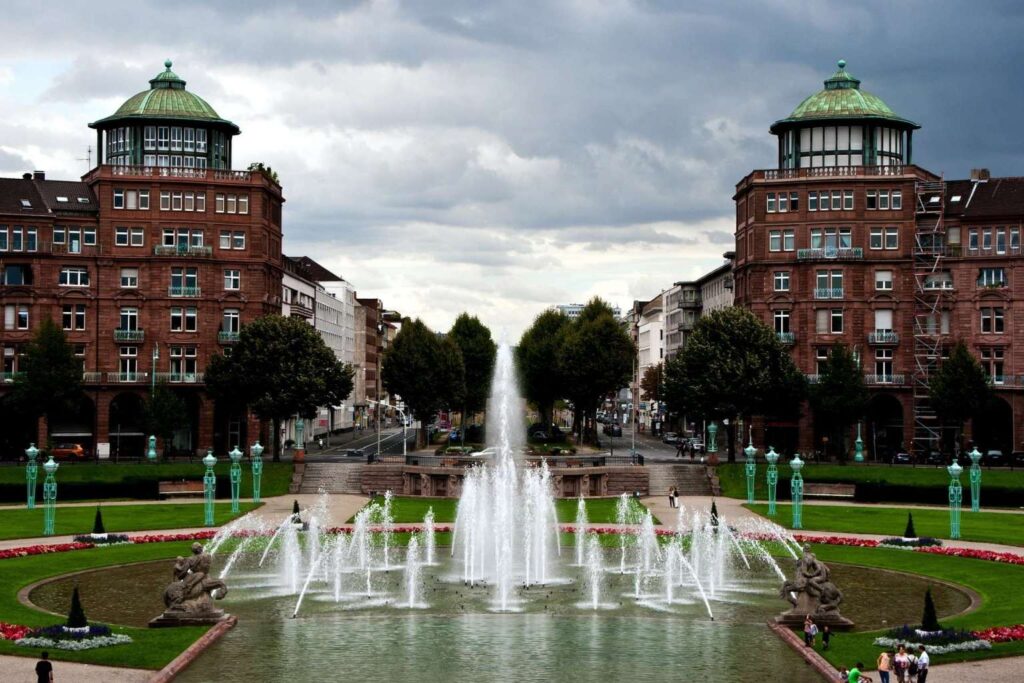 Accommodation
There are many good accommodation options in and around the centre of Mannheim, ranging from an excellent youth hostel, budget hotels to design hotels. But best of all, most are in walking distance of the congress venue.
We have negotiated special rates with several hotels in the city centre (the "Quadrate") and close by for EURALEX participants (limited capacities). Most are centrally located and only a stone throw away from the Schloss (palace). When booking let them know you book as an EURALEX-visitor to get our negotiated rates. These are:
But there are many more options for you to stay:
Travel
Getting to Mannheim
By plane: The nearest and biggest German airport is Frankfurt International Airport (FRA). It has a direct train connection to Mannheim. Other airports near to Mannheim in order from the nearest to the farthest airport are:
Frankfurt International Airport (FRA)

to Mannheim by train: around 30 minutes
to Mannheim by car: around 45 minutes

Stuttgart Airport (STR)

to Mannheim by train: around 1.5 hours
to Mannheim by car: around 1.5 hours

Karlsruhe/Baden-Baden Airport (FKB)

to Mannheim by bus/train: around 1.5 hours
to Mannheim by car: around 1.5 hours

Cologne Bonn Airport (CGN)

to Mannheim by train: around 2 hours
to Mannheim by car: around 2.5 hours

Düsseldorf Airport (DUS)

to Mannheim by train: around 2.5 hours
to Mannheim by car: around 3 hours

Nuremberg Airport (NUE)

to Mannheim by train: around 3.5 hours
to Mannheim by car: around 3 hours

Munich Airport (MUC)

to Mannheim by train: around 4 hours
to Mannheim by car: around 3.5 hours
By train: Mannheim central station ("Mannheim Hauptbahnhof (Hbf")) is a transportation hub in the immediate vicinity of the University of Mannheim. It can be reached from several international airports within a few minutes (e.g. from FRA) or hours.
Important information about the stop "Mannheim Hauptbahnhof" for the trams and city buses:
From Wednesday, May 11, 2022, until presumably Friday, September 30, the bus and tram stop "Mannheim Hauptbahnhof" will be closed. This will result in extensive detour on tram lines 1, 3, 4/4A, 5/5A, 8, 9 and 15.
9-Euro-Ticket:
In the months of June, July and August, you can take advantage of the nationwide offer and travel on local/regional public transport (such as RB, RE, U-Bahn, S-Bahn, bus and tram) across the Rhine-Neckar metropolitan region and throughout Germany for 9 euros a month.
Cafés and Restaurants
The conference venue (University of Mannheim, Schloss Mannheim) is near to the city center and you will find many options for coffee and food there. In the list below we put together a small selection of cafés and restaurants that are close to the venue. For further information and opening hours, please refer to the respective websites.
Please note: Lunch is not included in the Conference fee.
Name
Category
Address
Asia Food ICHI
Restaurant
Q2, 13
68161 Mannheim
basic – Der frische Bio-Supermarkt
Supermarket
B1, 3-5 (Kurpfalzstraße)
68159 Mannheim
Bio Bäcker Bihn
Café
Stadthaus N1
68161 Mannheim
Burrito Baby
Bistro
D4, 5
68159 Mannheim
Cafe Bistro Novus
Café/Bistro
M4, 1
68161 Mannheim
Cafe Restaurant Beirut
Restaurant
P6, 14
68161 Mannheim
Café Sammo
Café
B1, 6a
68159 Mannheim
Café Sammo Zén
Café
A3, 7
68159 Mannheim
Dachgarten
Restaurant
O5, 9-12
68161 Mannheim
(6. Etage engelhorn Mode im Quadrat)
Ellin Original Greek
Restaurant
E3, 1
68161 Mannheim
Gasthaus Zentrale
Restaurant
N4, 15
68161 Mannheim
Helder & Leeuwen Café
Café
N3, 15
68161 Mannheim
Kamps Bäckerei
Café
P2, 12
68161 Mannheim
L3 Coffee Bar
Café
L3, 9
68161 Mannheim
Laternen | Köstlichkeiten aus Vietnam
Restaurant
O7, 25
68161 Mannheim
Lenok's Burger
Restaurant
N4, 15
68161 Mannheim
Mémoires d'Indochine
Restaurant
C2, 10a
68159 Mannheim
N-Eins Lounge
Restaurant
N1, 1
68161 Mannheim
(Stadthaus, Erdgeschoss)
OhJulia
Restaurant
Q6, 6
68161 Mannheim (Etage 0)
Starks
Restaurant
N4, 13
68161 Mannheim
Touristic Highlights
In Mannheim, baroque history meets cosmopolitan modernity.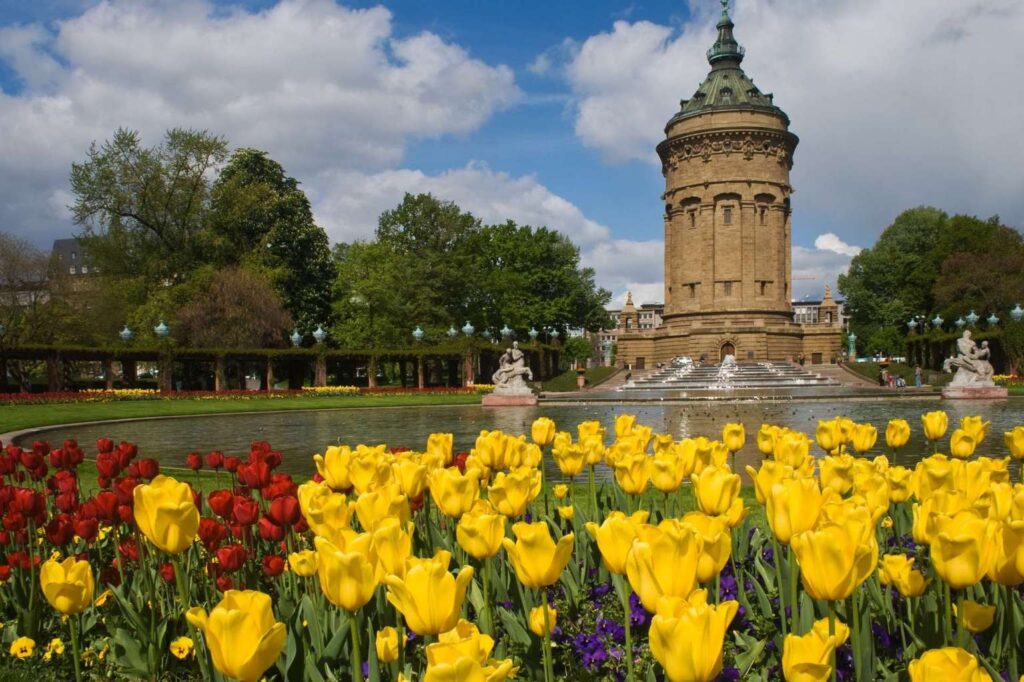 The most popular landmark of Mannheim is the Water Tower. It was built between 1886 and 1889 and is situated on the square Friedrichsplatz, which is also home to one of the largest Art Nouveau sites in Europe. With its fountains, promenades and colourful flower beds, the square is a green idyll in the heart of the city. Especially on summer evenings, the square invites you to pause and marvel at the illuminated water fountain choreography.
Within sight of Mannheim Palace lies the Jesuit Church, a Roman Catholic parish church. Its impressive baroque exterior is modelled after the church "Il Gesù" in Rome, and its interior is rich in baroque art as well, as demonstrated by the high altar or the ceiling fresco.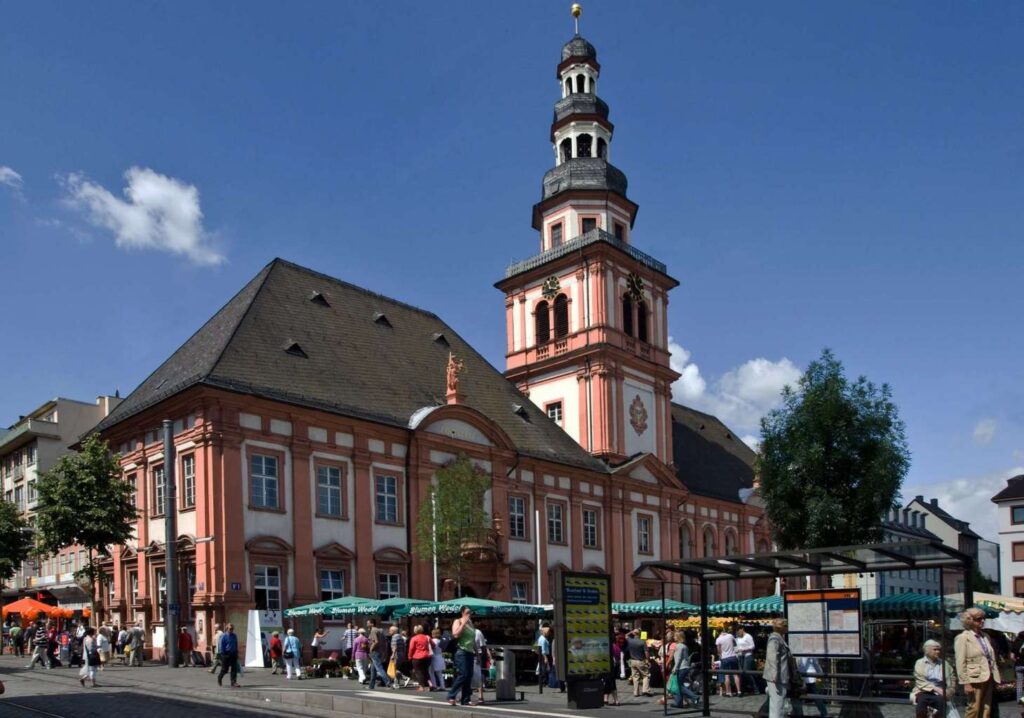 After a short walk from the Palace into the city centre, you get to Marktplatz square, where a farmers' market is held three times a week. The baroque backdrop for the market is formed by the old town hall and the parish church of St. Sebastian, which is Mannheim's oldest building. There are two clocks on the bell tower and a glockenspiel sounds from the tower three times a day.
Right behind the square lies the district "Little Istanbul", which is predominantly Turkish-influenced and invites you to taste international specialities.
If you leave the "squares" behind you and head towards the harbour, you will find yourself in the creative trend district "Jungbusch". Between its industrial romanticism and harbour scenery beats the creative heart of the city as it houses facilities like the Popakademie Baden-Wurttemberg. Here you can experience the real Mannheim nightlife.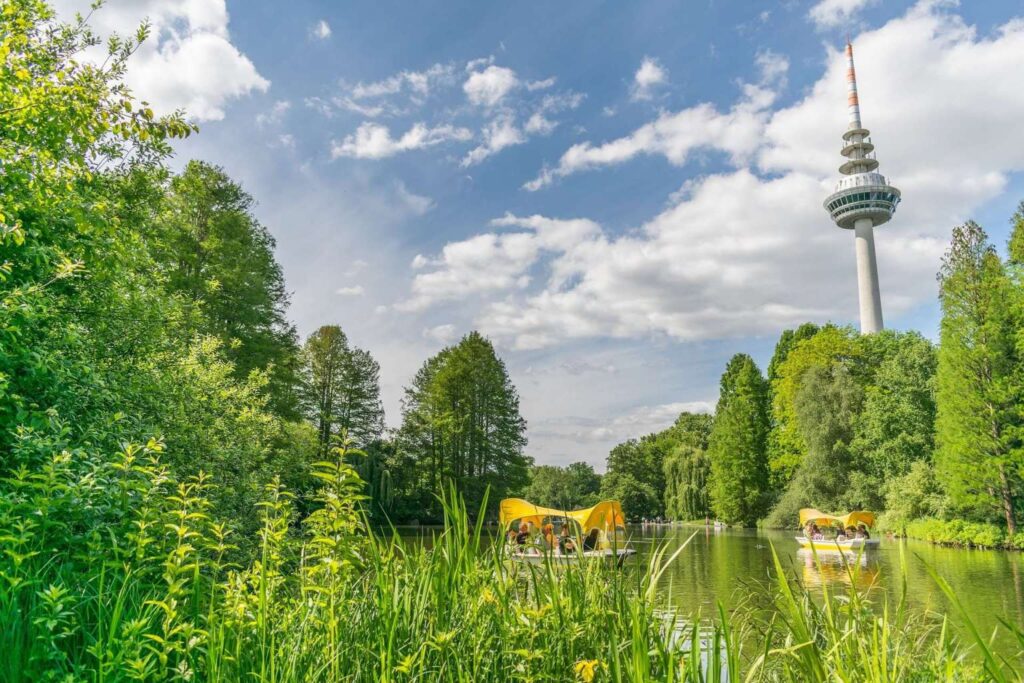 When you have had enough of city life, you can enjoy nature at Luisenpark, the largest urban park in Mannheim. Unwind in the sound oasis with a relaxation area and sun beds, discover tropical plants and exotic animals in the conservatory, or drift lazily in gondolettas on the Kutzerweiher lake.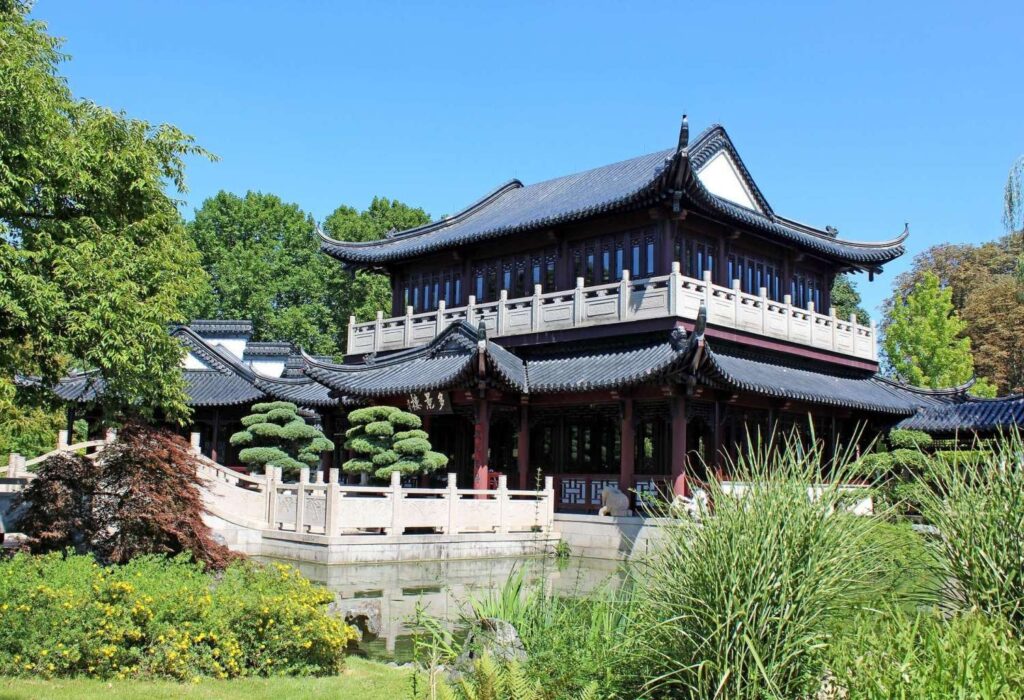 And if that is not enough, you can even leave Mannheim behind and immerse yourself in Chinese culture in the largest original Chinese teahouse in Europe, where you can experience a real Chinese tea ceremony.
For more on sightseeing in Mannheim:
https://www.visit-mannheim.de/en/sightseeing
Tourist Information Mannheim
Willy-Brandt-Platz 5 | 68161 Mannheim
Insider Tips
Petra recommends:
Asia Food ICHI (city centre Q2, 13)

Without a doubt, the best Chinese food in town, small place for a more private lunch, the owners are always happy to cook you something special if you ask (they speak German & English)
Annette recommends:
Walk along the Neckar (city center)

Start at the Friedich-Ebert-Bridge near the Universitätsklinikum Mannheim in southeast direction (along the hospital). First stop: Maruba. At the Feudenheim lock, cross the railroad/pedestrian bridge and walk back on the other side of the Neckar. Second stop: Bootshaus at the TV tower (at the TV tower access to the Luisenpark). Return at the Theodor-Heuss-Bridge near the Theresien hospital. Total length: 5 km.

Longer alternative: Start at the Kurpfalzbrücke near the Alte Feuerwache and return at the Kurpfalzbrücke on the side of the Abendakademie. Here is the third place to stop: Neckarstrand. Total length: just under 7 km.

On the way, from the bridges up the Neckar, you can see the Bergstrasse and the Odenwald in the distance, and down the Neckar, you can see Mannheim's industrial harbor and BASF in the distance. At the Feudenheim lock, you can hopefully watch one of the large Neckar transport ships in the lock chamber. Or watch rowers and numerous waterfowl doing their lanes on the Neckar, and let the numerous walkers, joggers, skaters, bikers, streetball players, etc. encourage you to join in. Alternatively, bring a blanket and food to have a picnic on one of the Neckar meadows.
Christine recommends:
Planetarium Mannheim – Window to Space

"A trip to the moon? A walk across the Milky Way? No problem! In the Mannheim Planetarium, you can immerse yourself in the fantastic world of stars, planets and galaxies and experience science up close. There are space adventures for young and old, that can be experienced from the comfortable planetarium armchairs." (see https://www.mannheim.de/de/kultur-erleben/veranstaltungsorte/planetarium) From the Mannheim Water Tower you can walk to the planetarium in around 20 minutes and stroll on this walk along the Augustaanlage on part of Mannheim's sculpture mile (https://de.wikipedia.org/wiki/Skulpturenmeile_Mannheim). There you will come across exhibits that are reminiscent of Carl Benz, the inventor of the automobile. The route and goal of this insider tip are real highlights!

Further information on the programme in the Planetarium and on tickets: https://www.planetarium-mannheim.de/
Nina recommends:
German Wine Route

"Welcome to the Palatinate, welcome to the Tuscany of Germany" (http://www.weingut-mussler.de/#vinothek). Not far from Mannheim is the German Wine Route: the ideal place to spend a relaxing day with good "Woi in de Woistubb" (Wein in der Weinstube = some wine in a county winery).

Would you rather enjoy a delicious breakfast or coffee and cake at Café Solo? Or do you opt for a visit in the Holz-Weisbrodt Secco Hut with delicious palatine wines, seccos and mixed drinks? Or would you choose to go to Holz-Weisbrodt's main restaurant, where you can enjoy good old home-style cooking as well as wine?

But Weisenheim am Berg is not the only place to visit. There are also other places and restaurants in the surrounding area that are worth a trip to the Palatinate.
BASF – Visitor Center

"Experience and discover the world of BASF": If you are interested, you can take part in a free guided tour of the production site covering an area with more than ten square kilometres. Alternatively, visit the free exhibition. They always take place from Monday to Friday as well as on Adventure Saturday (09 July 2022).
Museums

Mannheim has a wide variety of museums that take you away to another world for a few hours. There is something for everyone – fans of art and architecture, technology enthusiasts and many more: "Kunsthalle", "Technoseum", "Marchivum", "Reiss-Engelhorn-Museen"

Photo credits: pixabay, Universität Mannheim, Katrin Glückler